Pyramid of Success
Posted by: Preservation Management, Inc. in General on June 8, 2021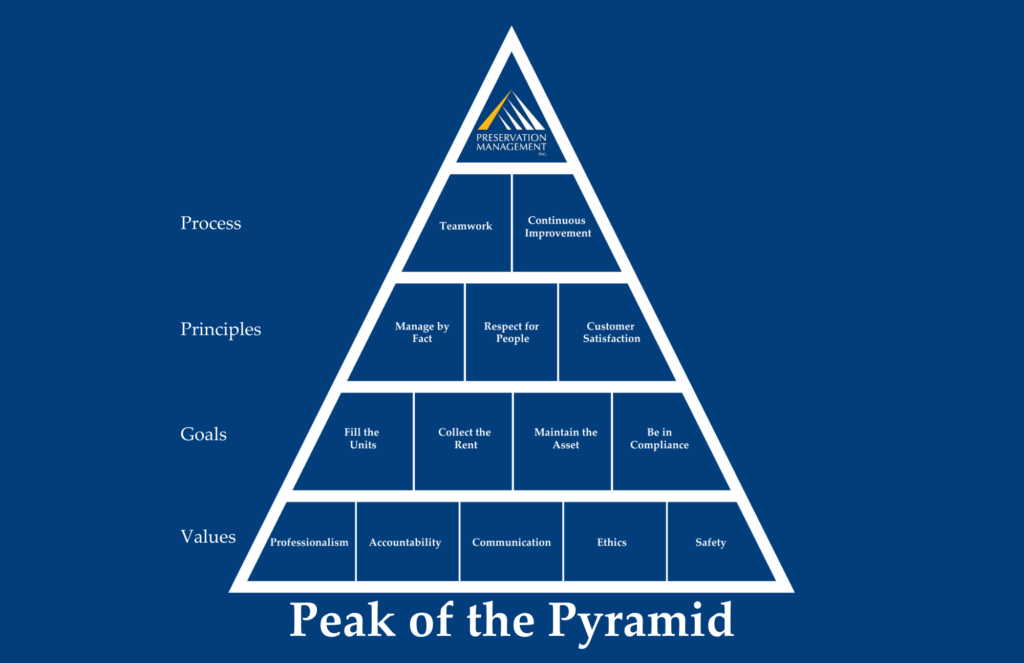 PMI's Pyramid of Success was created in 2015 and serves as the guiding light on the process and principles we use to do our work as well as to highlight our shared company goals and values.  
The foundation of the Pyramid of Success is our value statement known as PACES (Professionalism, Accountability, Communication, Ethics and Safety). In 2013, the theme of PMI National Managers' Conference was customer service. The PMI team members at the time were asked to collaborate to define the core values we bring to our work. From that collaboration, which included contributions from field employees and corporate office staff, PACES was adopted as PMI's value statement.
The Pyramid of Success also highlights our company goals which are 1) Fill the units 2) Collect the rent 3) Maintain the Asset, and 4) Be in Compliance. We take our responsibilities to property owners and our residents very seriously. To meet investment expectations, it is critical that we are aggressive about fulfilling these goals. Equally important, we work in affordable housing because we feel there is a moral obligation to house people as quickly as possible in quality, well-maintained housing.
The next level on PMI's Pyramid of Success is our principles for how we do our work which are Manage by Fact, Respect for People, and Customer Satisfaction.
We believe that by treating our residents, property owners, and colleagues as valued customers, we build a culture where everyone can feel safe, protected, and respected.
Finally, at the very top of the pyramid is our processes for doing our work which are Teamwork and Continuous Improvement. At PMI, we work hard to instill a culture of teamwork, so our site teams know their team exists beyond the borders of their property. In the spirit of continuous improvement, we try to learn from our mistakes, and we actively solicit feedback from our team to ensure that we continue to grow professionally.
PMI's Pyramid of Success was created through a collaboration of all PMI employees, and we believe that's meaningful because it demonstrates our shared investment in creating a company culture based in respect for people and teamwork as well as a shared vision of why we come to work every day.
We work at PMI to create quality, affordable communities that anyone would be proud to call home.
---