We are the PMI family.
Our Mission
To create and maintain safe, quality affordable housing as a foundation to help our residents achieve stability and build opportunity.
Our Story
Since 1990, Preservation Management has provided comprehensive residential property management services. We specialize in managing affordable housing properties, with a dedication to providing safe, high quality, well maintained communities where seniors and families can thrive.
We don't take lightly our responsibility as stewards of owners' investments and affordable housing resources. Our expertise in compliance spans multiple programs, including Section 8, Low Income Housing Tax Credits, Rural Development, and the Rental Assistance Demonstration program. Our focus on training ensures that our team stays ahead of new developments and industry best practices. We operate at a scale that allows property owners to benefit from our national relationships with vendors and partners, yet also enables us to tailor our services to meet the unique needs of individual owners and communities.
And we never lose sight of the reason we come to work every day: to provide more than 10,000 households in 18 states an apartment they are proud to call home.
Our Values
PMI's way of doing business is represented in our Pyramid of Success. We hold this central to everything we do.
PMI Pyramid of Success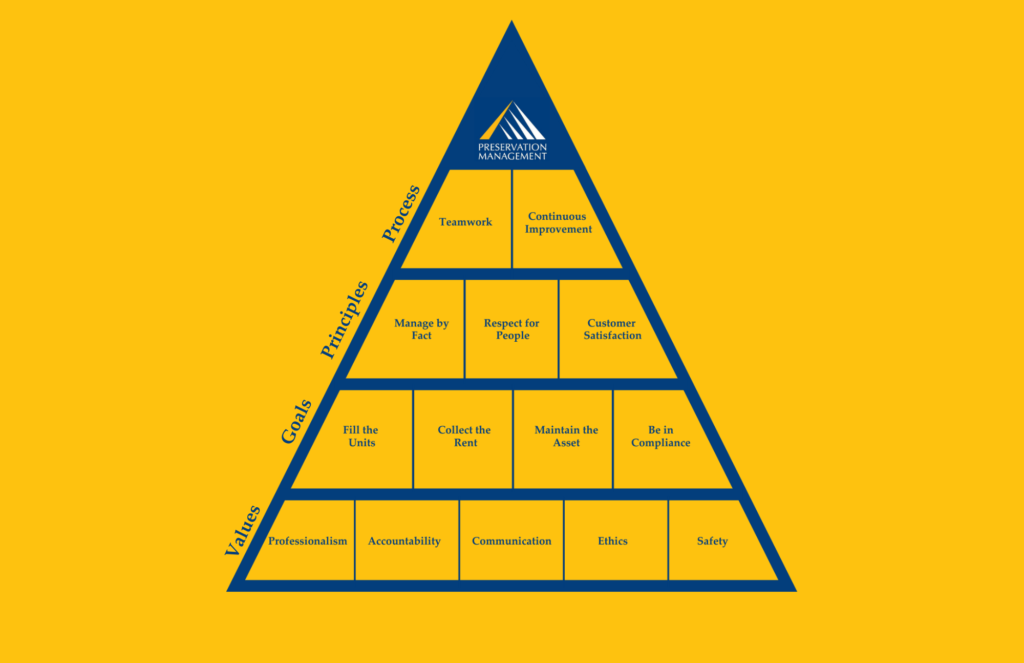 Our Processes
Teamwork
Continuous improvement
Our Operating Principles
Manage by fact
Respect for people
Customer satisfaction
Our Goals
Lease our units to qualified residents
Assure the timely receipt of the revenues for which we are responsible
Provide high quality maintenance of the properties we manage
Be in compliance with legal/regulatory requirements
Our Values
Professionalism

We take pride in ourselves and our work, we treat others with dignity and respect and we solve problems through collaboration and teamwork.
Accountability

We take personal responsibility for our actions, we utilize resources efficiently and we deliver exceptional results
Communication

We create an environment of openness and trust where ideas and opinions are welcome, we listen empathetically to understand the needs of others and we provide honest feedback.
Ethics

We model the highest standards of integrity fairness and conduct, and we assume best intentions
Safety

We care for one another.